Cauliflower is a nutritional powerhouse high in fiber, choline which is vital for brain, liver, and muscle functions.  It has vitamins K and B6. A 100-gram serving delivers 1 gram of fiber and protein and 39 mg of choline, almost 10 percent of the recommended daily intake.
Roasted cauliflower is delicious. It's also a versatile roasted veggie, easy to customize with your favorite seasonings or add to your favorite salads, soups, and appetizers. And of course, it's also a nutrient-rich cruciferous veggie, full of lots of fiber, antioxidants, vitamins, and minerals.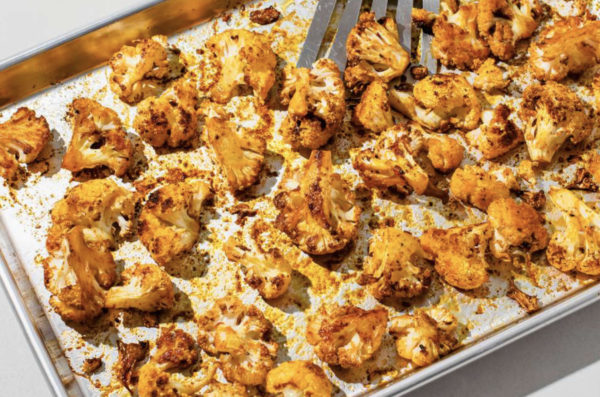 Preheat the oven to 425 degrees Fahrenheit and line a large, rimmed baking sheet with parchment paper for easy cleanup.

Prepare the cauliflower by cutting out the core, slicing it into quarters, retrieving the florets, and then making the florets into bite-size pieces.

Add cauliflower to a medium-sized mixing bowl, drizzle with 2 tablespoons olive oil and add the spices. Toss until the ingredients are evenly distributed, and the cauliflower is lightly coated in oil, adding another drizzle of oil only if necessary.

Arrange the cauliflower in an even layer and bake until it's deeply golden on the edges, tossing halfway about 25 to 35 minutes.  Oven times may vary.

Remove from the oven.  Sprinkle the cauliflower with optional garnishes, cilantro and lime zest, or parsley if desired.
NOTE: If you don't like spicy food, simply prepare with salt and pepper.