Fire cider has been touted as a folk remedy for generations, said to combat the flu and even the common cold, among other things, including aiding digestion and boosting the immune system.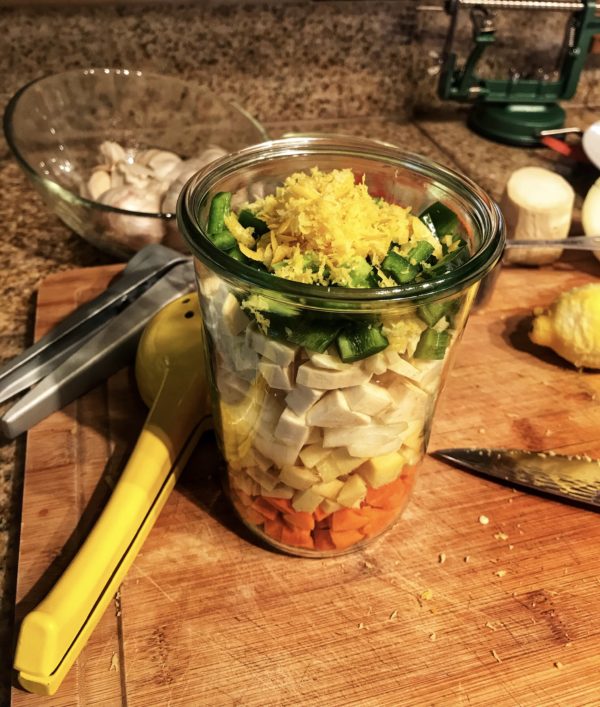 | | |
| --- | --- |
| | |
Add ginger, turmeric, horseradish, onion, garlic, jalapeño peppers, lemon zest with juice, and cayenne powder into a quart-sized glass jar.

Pour apple cider vinegar in the jar until all the ingredients are fully covered, and the vinegar reaches the top of the container. You want to be sure all the ingredients are covered to prevent spoilage.

If you're using a metal lid, place a piece of parchment paper under the lid to keep the vinegar from touching the metal. Alternatively, you can use a plastic lid; they make them specifically for the Ball and Kerr mason jars.

Shake jar to combine all the ingredients and store in a dark, cool place for 2-4 weeks, remembering to shake the jar every day.

After one month, shake the container, then strain it using a mesh strainer or cheesecloth to strain out the solids, pouring the vinegar into a clean jar. Be sure to squeeze out as much of the liquid as you can. This stuff is liquid gold!

Store in an airtight glass jar in the refrigerator for up to 12 months.

Drink one tablespoon in a shot glass or mix in water for a daily dose of fire.
Optional – After you strain the ingredients, you can add ¼ cup raw honey to the liquid and stir until incorporated.   Taste your fire cider and add more honey if needed until you reach your desired sweetness. I don't add the honey because I don't like it.  Yes, I know I might be the only person who doesn't like honey. Recipe is inspired and modified from my friend and colleague Kelleigh Kincaid.